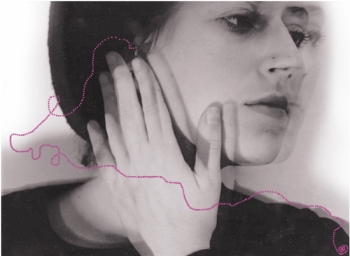 "Fantastic work. (...) Sounds almost like a musique concrète collage
made from Folkways LP about the removal of the larynx. But it's not!"
The Wire (UK)




"She embodies a noisy experimentation, in a crude art without concessions"
Revue & Corrigée (FR)
"A very strong experimental vocalist"
Chain DKL (US)
Alessandra Eramo (*1982 Taranto, IT/DE) is a Berlin-based artist and vocalist who works with performance and installation, sound composition, video, drawing and text, exploring latent acoustic territories of the human voice and noise as socio-political matter. Combining visual art and contemporary music, she develops artistic projects and conceptual performances that address questions of the body, memory and identity, often adopting participatory actions, field recording, site-specific modes, and experimental approaches to composition. Central to her practice is extending the voice in different sonic and visual contexts, crossing boundaries of genres and traditions. Her current research focuses on the invisible and the materiality of the voice, the tension between vocality and writing, performative rituals and trance-like states with singing.

She was trained in classical singing, piano and music theory since an early age, she studied at the Academy of Fine Arts in Milan and Stuttgart and completed her Master's Degree in Performance Studies at the Faculty of Philosophy at the Ca' Foscari University in Venice.
Gaining international recognition for her unconventional vocal performance art, she has exhibited widely at festivals, radio, museums, galleries and institutions such as: Radio Papesse, Kira A. Princess of Prussia Foundation, Savvy Contemporary Berlin, Liminaria/Manifesta12 Palermo, BBC Radio 3, Tempo Reale Festival Florence, Transmediale Berlin, Heroines of Sound Festival Berlin, Museum FLUXUS+ Potsdam, Lyd+Litteratur Festival Aarhus, Galerie Haus am Lützowplatz Berlin, PACT Zollverein Essen, Liverpool Biennial 2013, Roulette New York, Audiorama Stockholm, Padiglione Italia nel Mondo/54th Venice Biennale.

2021 she is recipient of the Musikfonds Grant in Germany. 2020 she's invited from the Festival des Gestes de la Recherche in Grenoble to show Bar Bar, her new sound work created during the pandemic, exploring the marginalized body and the voice in an hyper-productive world. Between 2019 and 2020 she creates Tanz Sediment a multimedia installation and a radiophonic piece commissioned by Deutschlandfunk Kultur - Klangkunst and Savvy Contemporary, inspired by the ritual of Tarantism and the freedom of the female voice.

Co-founder of Corvo Records - vinyl & sound art production, where she released in 2019 her critically acclaimed LP Tracing South, a work about the South as a non-geographical condition, reflecting on the Mediterranean Sea as a human and spiritual dimension. In 2014 she released the 7" Roars Bangs Booms, a composition and performance work about the onomatopoeic words from the Futurist Manifesto "The Art of Noises" by Luigi Russolo.

In her video and performance work Contemplation on Sarmento River that was shown at the Kleiner Wasserspeicher in Berlin for the Dystopie Sound Art Festival 2018, focussing on the topic of desertification risk and migration, Alessandra Eramo reconstructs the sound of a dry river in Southern Italy through her voice and creates a mourning ritual through ancient chants from the Mediterranean area. She's invited artist at the 6th Thessaloniki Biennale of Contemporary Art in 2017 to exhibit Migratory Echoes, her sound performance and installation project based on interviews to migrants about the "sounds of home", generating both a personal and collective archive of voices, silences, breaths, noises, memories and dreams of dislocated persons.

She took part to the artistic residency of Tsonami Festival Valparaìso (Chile) in 2016 where she performs 3 Places Where I Can Sing: Songs for Valparaíso, connecting the sonic memory of the inhabitants and her voice through interventions in various places of the city specifically selected for their symbolic and political connotation.

As recipient of grants from Berlin Senate, IfA and the Goethe Institut Napoli in 2014, she has curated and participated to the residency and sound art exhibition "Correnti Seduttive" in her hometown Taranto in Southern Italy (with Peter Cusack, Georg Klein, Steffi Weismann and Wendelin Büchler), a place with the highest level of industrial pollution in Europe: She creates Se Dio Vuole, a sound installation dedicated to the beauty and destruction of the sea in Taranto.

She's been Artist in Residence a.o. at EMS Stockholm with the support of the Italian Culture Institute of Stockholm, Goethe Institut Thessaloniki, EMPAC Troy (NY) - Rensselaer Polytechnic Institute with Doug Van Nort and Pauline Oliveros, and at Harvestworks Digital Media Arts Center New York, where she's created Lauter Spannung an audiovisual work for voice and field recordings.

Alongside her work, she has collaborated as vocalist with many acclaimed composers, visual artists, choreographers and poets including Zorka Wollny, Brandon LaBelle, Noha Ramadan, Ines Lechleitner, Marcus Bastos, Irena Tomažin, SJ Fowler, Gabriel Dharmoo, Tomomi Adachi, Seiji Morimoto, Korhan Erel, Kirsten Reese, Ariel Orah, Steffi Weismann, and Marta Zapparoli. She is voice performer in several films by Maria Iorio & Raphaël Cuomo, including Appunti del Passaggio (Premio Furla 2015), a film about the biopolitical regime in the 1960s that southern Italian migrants bodies were forced through when they arrived at the Swiss border. The film is been shown a.o. at the Fondazione Querini Stampalia in Venice.

Between 2015 and 2018 she's been member of Errant Sound project space in Berlin, where she also leads her cross-disciplinary workshop The Space between Voice and Gesture.


ONLINE PORTFOLIO
Download (27,2 MB)