SE DIO VUOLE (God Willing)
Sound Installation, Objects, 2014
multichannel, 9'
Exhibited at: Sound Art Exhibition "Correnti Seduttive"
at Palazzo Galeota Taranto (Italy) 1-4 March 2014
More infos:
www.correnti-seduttive.com
5.30 am ILVA's Drone and Seagulls on Mar Piccolo's Wharf
The sound installation "Se Dio Vuole" (God Willing) has been created in September/October 2013 during the artistic residency "Correnti Seduttive" in Taranto (Italy), the city where I was born. A beautiful place with the sad destiny of being a major centre of the European steel industry and a NATO base; a place of social tension, high emigration and disastrous environmental problems with one of the highest industrial disease rates in Western Europe.
This work is dedicated to Mar Piccolo (the "Small Sea" bay of Taranto), its inhabitants and the fishermen who work there. It expresses my need to look once again at this place of incomparable beauty, the central place of Taranto that was forced to irrevocably change its traditional working patterns and purpose as mussel cultivation because of water pollution from industry and the navy. For this work, I focus on field recordings and "found objects" from Mar Piccolo and on the musicality of the Tarentinian dialect, dealing with my own relation to my place of birth. As a visual element I employ a rough material of great historic resonance and of cultural importance for the whole Jonian region:
A' Zoc'
, the ropes made of sparto grass, used for more than 2000 years for mussel cultivation. This object is here transfomed into a sound sculpture: In a tangle of ropes there are four black loudspeakers playing a vocal composition which is based on the
guttural sounds
of the Tarentinian dialect and on
words in Ancient Greek
whose linguistic heritage is present to this day in Tarentinian dialect. Despite the attempts of philologists, the sound of Ancient Greek remains unknown. Hence I tried to "give a voice" to words of pain and hope:
biaia
: violence, violent acts
taras, tarantos
: Taranto, from Taranto
tarantinos
: Tarentinian
ofeleia
: help, support
ota, ous
: ear, ears
kataftora, katafteiro
: ruin, defect, destruction, carnage, death
kataugazo
: illumination, resplendence
eleferamenos
: cruelty, injury, devastation
elpis, elpidos
: hope, hopeful
Two other loudspeakers in the corners of the room play a
melodic chant
I wrote and performed, which is inspired by the music of the easter procession, traditionally played by a marching band, and with an original
field recording
made on Mar Piccolo's wharf, where the ear-splitting drone of the steel industry contrasts dramatically with the chant of the seagulls. In the connecting room on a pedestal there's a
poetry
written during the residency in October 2013, which I dedicated to the Taranto Vecchia Island. On the other pedestal there are "found objects" from Mar Piccolo: small and humble treasures as a
one euro coin
, a
seashell
and a still sealed
surprise bag
purchased for one euro at the fair in honour of the Saints Cosma e Damiano. At the pedestal's base
300 paperstrips
with my original drawings are piled up and scattered, building a sea of signs: Gestural and graphical transcriptions of the Tarentinian phonemes, scores of my mother tongue.
Supported by: Goethe Institut Napoli, Kulturverwaltung des Senats Berlin - Internationaler Kulturaustausch, IfA - Ausstellungsf÷rderung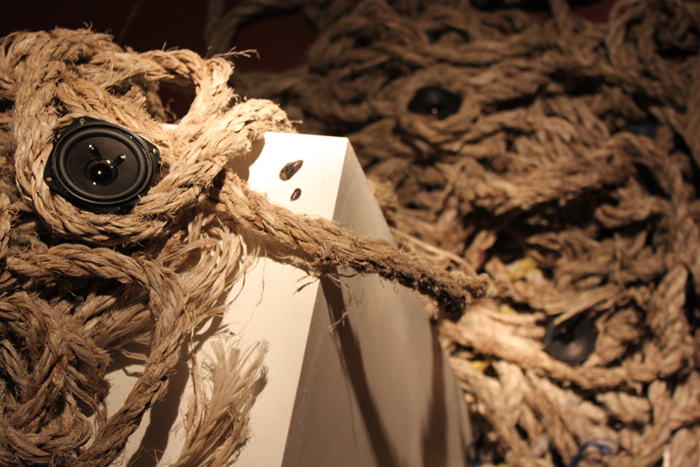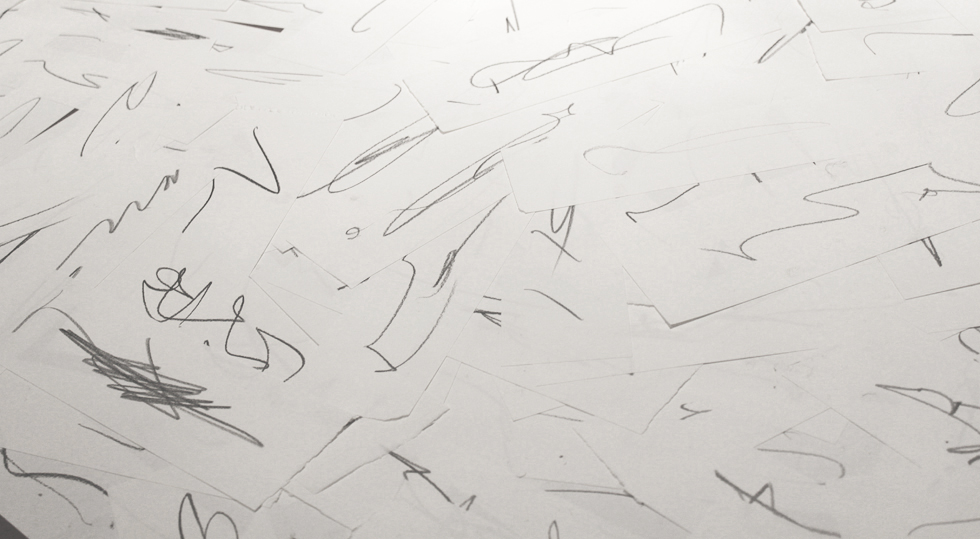 Impressions during the artistic residency in Taranto
"For many years now I have the same dream: I immerse myself in Mar Piccolo, but the water is black and it scares me. In reality, I've realized that I had to make friends with Mar Piccolo again. Therefore I approached it, I listened to it, the beautiful, the raped. I observed its inhabitants, fishermen, mussel farmers who I asked to give me a'z˛c, the ropes where the tarentinian mussels are born. This wonderful object, almost always hidden under the water, reminds me of my roots. And my roots know about processions' melodies, slow gestures, dead Greek language, alive Tarentinian language and a rage that can only be transformed into poetry."