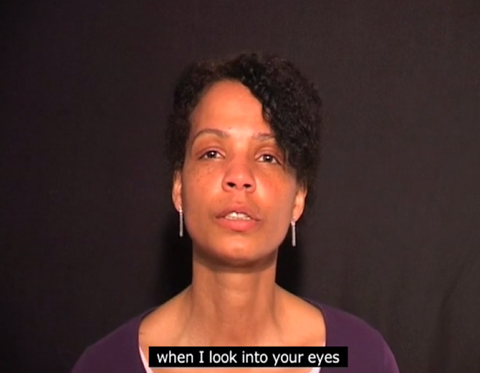 POETOPHONIE
Video, participatory performance, composition for Voice, Text and Field Recordings
2011/2012
12'21''

Exhibited/Performed at:
- 54th International Art Exhibition Venice Biennale, Padiglione Italia nel Mondo
4 June—27 November 2011

- Italian Cultural Institute Stuttgart, 4 June-27 July 2011
- Music and Audio Research Laboratory, New York University, NYC, 23 September 2011
- Performer Stammtisch, Kunstfabrik am Flutgraben Berlin, 17 October 2011
- General Public, curated by Fluctuating Images Berlin, 20 February 2012
- Lyd+Litteratur Festival Aarhus/Copenhagen, 27-28 April 2012
"There. Where sounds and words become part of a collective work"
The starting point of the video and participatory performance "Poetophonie" is a composition of voices and field recordings that I made:
- on the train travelling through Southern Germany
- in Berlin's suburbs in semi-deserted parks and squares by night
- in Taranto, the sounds of gun-shots and noisy crowded street during Christmas time, in the hospital where my father was hospitalized.
- in Castellaneta (Taranto), the sounds of an ancient wooden instrument called
troccola
played by children during the procession of "Settimana Santa" (Easter Procession)
Sounds, belonging to a "vanishing" present. The audience was welcomed on purpose one-by-one in my studio in Berlin; every visitor was invited to listen to an excerpt from my composition while they received from me an incomplete sentence taken from the poetry that I wrote inspired by the composition. Directly after listening, the visitor was invited to complete the poetry's fragment. The visitor's voices and faces were filmed and recorded, giving life to a collective work. The result is a video, where the audience became actor, "completing" the sound work with its own voice and face, generating a new poetical texture.
The aim of this work is to investigate the relation between found sounds and poetry. This by revealing the interaction between people, sounds, real and imaginary places. Writing" sounds (field recordings and recorded voices of an interacting audience) is here intended as tracing vanishing memories, but at the same time as tracing an existing reality that belongs to our present.
Supported by: Italian Cultural Institute Stuttgart, Ministero degli Affari Esteri, Ministero per i Beni e le Attività Culturali
POEMS EXCERPTS