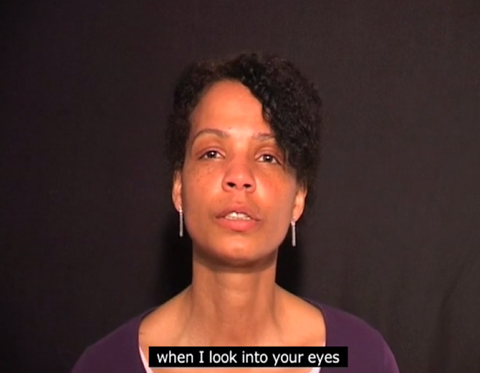 POETOPHONIE
Video, participatory performance, composition for Voice, Text and Field Recordings
2011
12'21''

Exhibited/Performed at:
- 54th International Art Exhibition Venice Biennale, Padiglione Italia nel Mondo
4 June—27 November 2011

- Italian Cultural Institute Stuttgart, 4 June-27 July 2011
- Music and Audio Research Laboratory, New York University, NYC, 23 September 2011
- Performer Stammtisch, Kunstfabrik am Flutgraben Berlin, 17 October 2011
- General Public, curated by Fluctuating Images Berlin, 20 February 2012
- Lyd+Litteratur Festival Aarhus/Copenhagen, 27-28 April 2012
"There. Where sounds and words become part of a collective work"
The starting point of the video and participatory performance "Poetophonie" is a composition of voices and field recordings that I made:
- on the train travelling through Southern Germany
- in Berlin's suburbs in semi-deserted parks and squares by night
- in Taranto, the sounds of gun-shots and noisy crowded street during Christmas time, in the hospital where my father was hospitalized.
- in Castellaneta (Taranto), the sounds of an ancient wooden instrument called
troccola
played by children during the procession of "Settimana Santa" (Easter Procession)
Sounds, belonging to a "vanishing" present. The audience was welcomed one-by-one in my studio in Berlin; every visitor was invited to listen to an excerpt from my composition and I also gave them a fragment of the poem I wrote inspired by the composition. So I invited the listener to complete the poem's fragment. Their voices and faces were filmed and recorded, giving life to a collective work. I created a video composition where the listeners turned into performers, like "completing" the sound work with their voice, generating a new poetical texture.
In
Poetohonie
I'm interested to investigate the relation between found sounds and poetry, revealing the interaction between people, sounds, real and imaginary places. Writing sound: my field recordings and the recording of the voices of listeners. Sound is here intended as a trace of vanishing memories, but at the same time the sound is a trace of an existing reality of the present.
Supported by: Italian Cultural Institute Stuttgart, Ministero degli Affari Esteri, Ministero per i Beni e le Attività Culturali
POEMS EXCERPTS