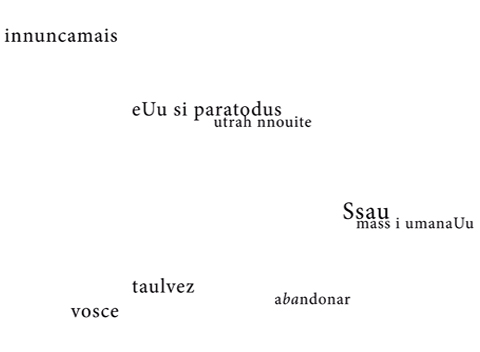 INNUNCAMAIS
Audiovisual Composition, 2015
8:08 min.


Exhibited at:
Zaratan Arte Contemporānea Lisbon (PT), 21-31 May 2015
Instituto de Estudos Brasileiros, Coimbra (PT), 28 April 2016
Programa de Doutoramento em Materialidades da Literatura, curated by Tiago Schwäbl


"INNUNCAMAIS is an audiovisual composition for voice and text based on the acoustic perception of the artist in relation to the phonemes of the Portuguese language. The voice of Alessandra Eramo speaks/sings found words, understood, or misunderstood: they are not really existing words, but vocal interpretations of a "poorly understood" Portuguese, a language that the artist doesn't know.
The visual part of the piece is a video: on a blank screen appears a sequence of words in black, disappearing and reappearing on different points of the screen. In syncrony, the voice interprets these words, following and directly transcribing each of phonemes and sound.
The selection of words and phonemes emerged during a trip of the artist to Portugal in February 2015, when she collected enviromental recordings of voices, songs and soundscapes of Lisbon.
Each language, whatever its origin, always offers a space of misunderstanding, confusion and auditory and textual distortion. The interaction between different languages, involuntary and sometimes strange, is the starting material for this audiovisual work of sound poetry."