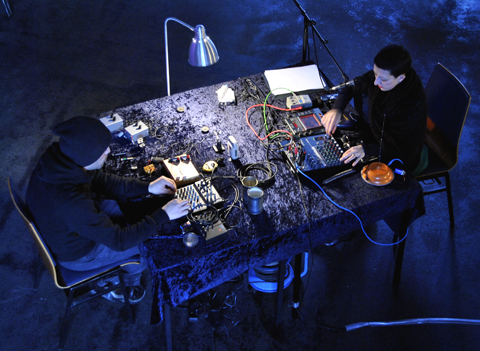 Alessandra Eramo & Seiji Morimoto
Seiji Morimoto | objects, feedback systems with vibration speakers
Alessandra Eramo | voice, field recordings, theremin, sampler

Performed at:
- Friedenskirche, Berlin-Charlottenburg, 26 February 2012
- Able Gallery, Berlin, 11 May 2012
- Wortwedding. Space for Interdisciplinary and Interactive Poetry, Berlin, 22 March 2013



The live performance in Duo with Berlin-based sound artist Seiji Morimoto (JP) is intended as an investigation on sound as transformable matter.
The fragility of silence and the pureness of noise are the essential elements of our work.
Playing with echoes, feedback and voices, we aim to trace a unique physical experience of listening.
Supported by: Die Friedenskirche, Bezirksamt Charlottenburg-Wilmersdorf
22 March 2013 - Wortwedding. Space for Interdisciplinary and Interactive Poetry

(Hokusai)
Even as a ghost, I'll walk with delight on the summer fields - I feel in somehow free to become a ghost -