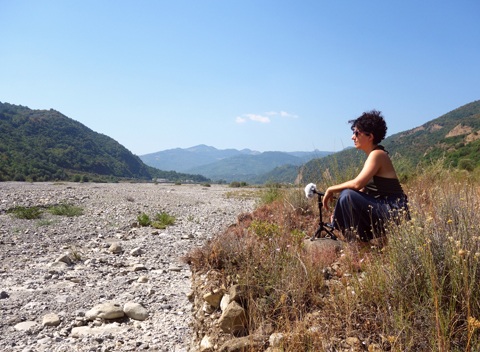 CONTEMPLATION ON SARMENTO RIVER
Sound Performance 20' - Video HD 12'21
2018


Exhibited and Performed at:
- Dystopie Sound Art Festival, Kleiner Wasserspeicher Berlin (DE) 21-30 September 2018


Supported by Berlin Senatsverwaltung für Kultur und Europa, Errant Sound Berlin






////

Broom flowers video footage in Val Sarmento: Lucrezia Lidia Fabiani
Stories from Val Sarmento: Mariangela Fabiani, Grazia Ferrara, Caterina D'Agostino
Video editing advisors: Maria Iorio, Raphaël Cuomo
Video and Field Recording assistent: Wendelin Büchler
"Alessandra Eramo reconstructs the sound of a dry river using her singing voice and the movement of water and stones. The presence/absence of water becomes a metaphor for the mass emigration of southern Italians. The
Sarmento
,running through the region of Basilicata, is a "fiumara" river, or rivulet, which typically flows through southern Italy's mountainside. Although flowing with abundant water during the winter months they usually run dry during summer, the riverbeds changing into an immense grey expanse of stones. Recent decades of human intervention have significantly changed their natural equilibrium and their soundscapes. Today these watercourses are transient, just like the human desert left behind by the inhabitants when they left this region in search of a better life. The sound of the absence of water, of stones, broom flowers, bird song and valley stories is the artist's contemplation on the Sarmento River, where she spent part of her childhood with her grandmother. The video and performance create a sonic scenario as a ritual of hope for the future of the river."
Video documentation of the live Performance: Costantino Ciervo, Wendelin Büchler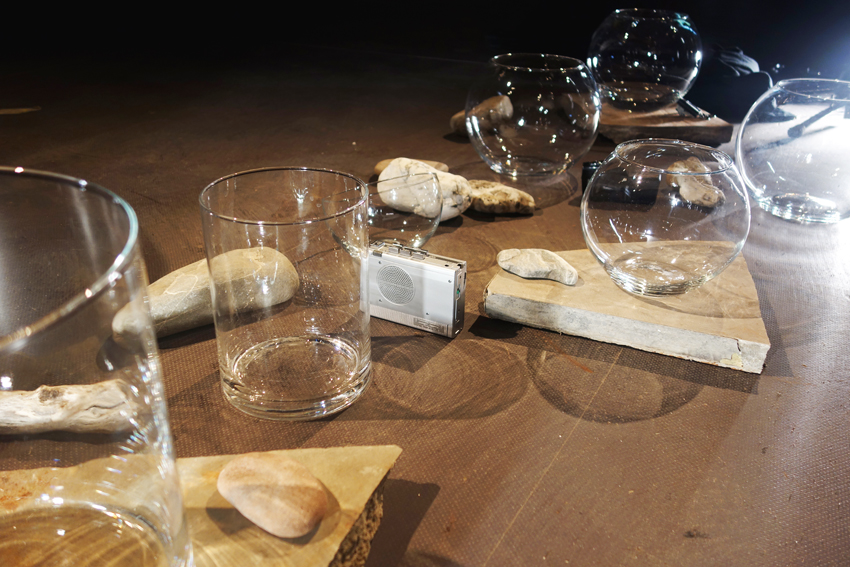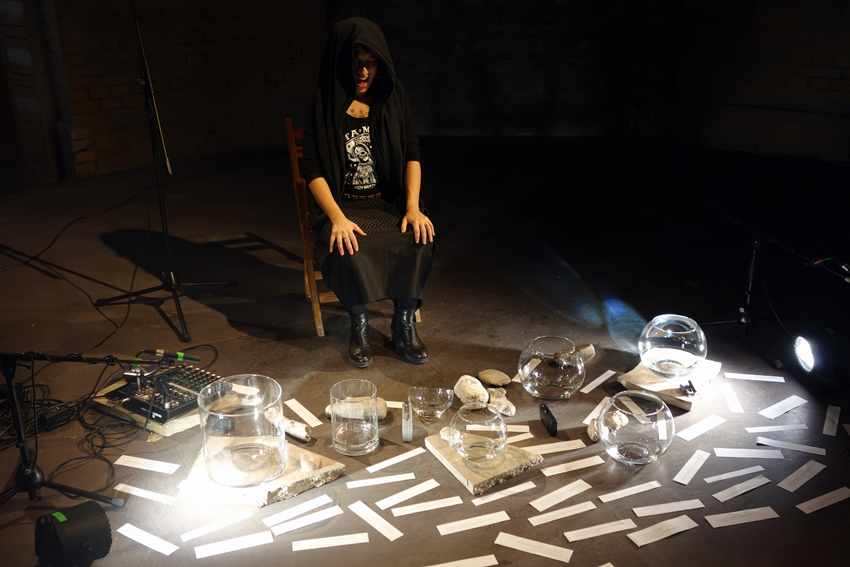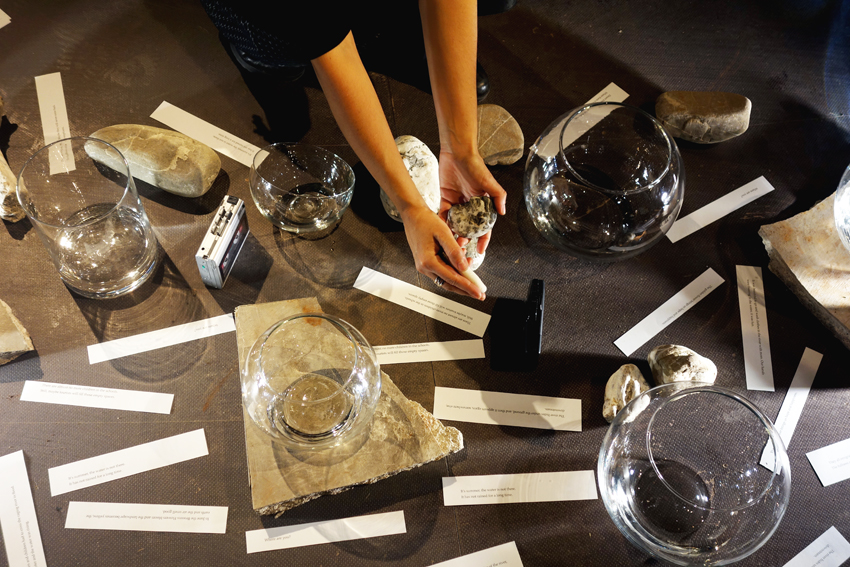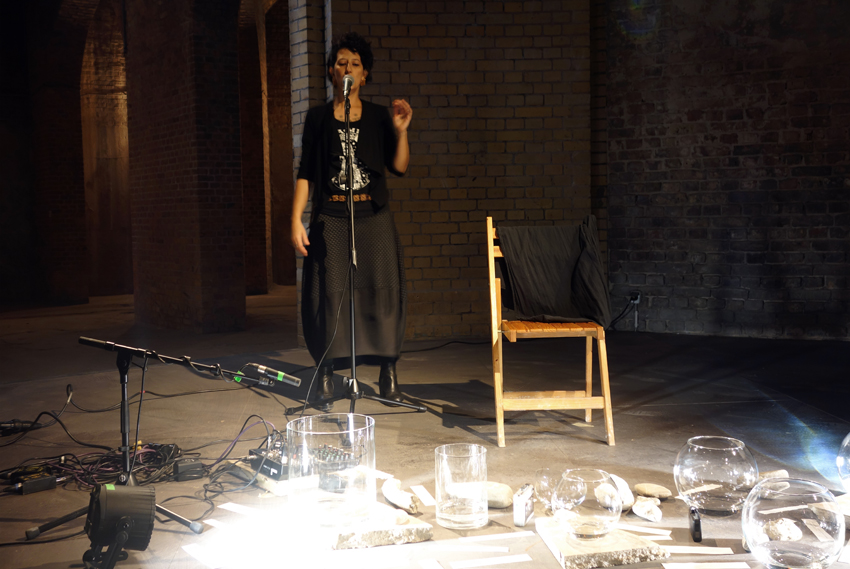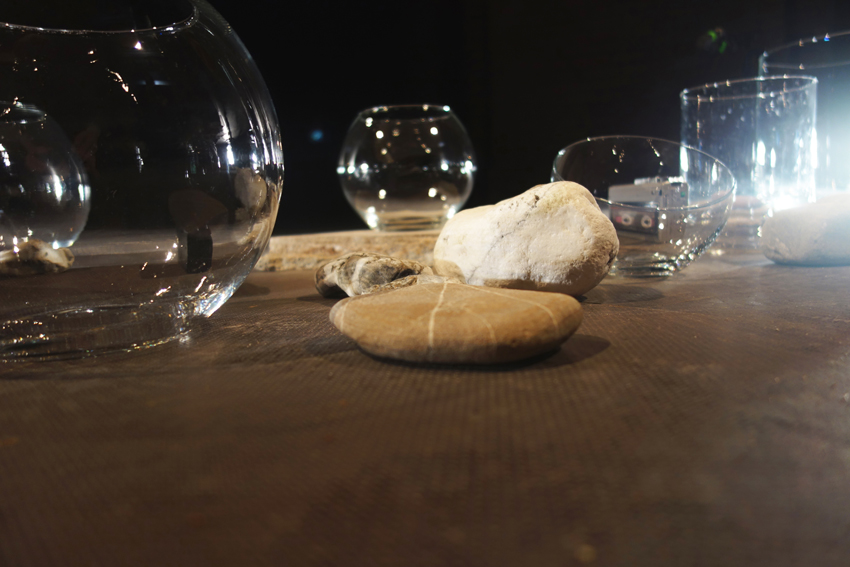 ITALIANO
"Alessandra Eramo ricostruisce il suono di un fiume secco usando la sua voce, il canto e il movimento dell'acqua e delle pietre. La presenza/assenza d'acqua diventa metafora dell'emigrazione di massa degli italiani del Sud Italia. Il
Sarmento
, che attraversa la regione della Basilicata, è una fiumara tipica delle catene montuose dell'Italia meridionale. Sebbene scorrano con abbondante acqua durante i mesi invernali, di solito le acque della fiumara si prosciugano durante l'estate, il letto del fiume si trasforma in un'immensa distesa grigia di pietre. Gli ultimi decenni di intervento umano hanno cambiato in modo significativo l'equilibrio naturale di questi corsi d'acqua e il loro paesaggio sonoro. Oggi essi sono transitori, effimeri, proprio come il deserto umano lasciato dagli abitanti che sono emigrati da questa regione in cerca di una vita migliore. Il suono dell'assenza di acqua, di pietre, fiori di ginestra, canto di uccelli e racconti dalle valle costituiscono la contemplazione dell'artista sul fiume Sarmento, dove trascorse parte della sua infanzia con la nonna. Il video e la performance creano uno scenario sonoro come un rituale di speranza e buon augurio per il futuro del fiume"
DEUTSCH
Alessandra Eramo rekonstruiert den Klang eines Flusses ohne Wasser durch ihren Gesang und die Bewegung von Wasser und Steinen. Die An-/Abwesenheit von Wasser wird zur Methapher für die massive Auswanderung der Süditaliener.
Sarmento
ist ein Fluss in der Region Basilicata, es ist ein "Fiumara", der typischerweise durch die süditalienische Bergwelt fließt. Sein Wasser ist im Winter reichlich vorhanden, aber im Sommer sehr knapp, wenn das Flussbett völlig trocken wird und sich in eine riesige graue Steinfläche verwandelt. In den letzten Jahrzehnten hat sich das natürliche Gleichgewicht dieser Wasserströme und ihrer Klanglandschaften durch menschliche Eingriffe erheblich verändert. Heute sind diese Wasserläufe vergänglich, genau wie die menschliche Wüste, die von den Bewohnern zurückgelassen wurde, als sie diese Region auf der Suche nach einem besseren Leben verlassen haben. Der Klang der Abwesenheit von Wasser, von Steinen, Ginsterblumen, Vogelgesängen, Geschichten aus dem Tal, kann als eine Betrachtung am Fluss Sarmento gesehen werden, wo die Künstlerin einen Teil ihrer Kindheit mit ihrer Großmutter verbrachte. Das Video und die Performance schaffen ein Klangszenario als Glücks-Ritual für die Zukunft des Flusses.
Videoaufnahmen von Ginsterblumen im Val Sarmento: Lucrezia Lidia Fabiani
Geschichten aus dem Val Sarmento: Mariangela Fabiani, Grazia Ferrara, Caterina D'Agostino
Berater Videobearbeitung: Maria Iorio, Raphaël Cuomo
Video-und Field Recording Assistent: Wendelin Büchler